Happy New Year everyone!
I'm wondering how many people reading this will actually take it in or remember any of it based on the current state of inebriation or hangovers etc.
This post is just about saying thank you, looking back over the last year and taking a look at the year to come.
It's crazy to actually sit down and consider what has happened on FauxHammer in the last year, After all, it was only in December 2018 that I decided to actually promote this site and try to make it something useful. To try and make it a name within the community and I'm happy to report that on our somewhat official 1 year anniversary. The community support and subsequent growth has exceeded all my expectations!
Over 2020, I want to grow the site further and make it a much bigger resource for hobbyists, but I need help to do it. (long story short, I'm looking to recruit, keep reading if you're interested).
When I started this site I was coming back to the hobby after a 16-year break from it. So I had to learn everything from scratch, I just didn't realise at the time how much there was to learn. It's taken hundreds of hours of work over the last year just to scratch the surface on tools and techniques available to all hobbyists. The whole point of this site was to share what I learned and save other hobbyists the time and effort I spend doing all this research.
This has naturally carved out a bit of a niche within this existing hobby niche, where FauxHammer has somewhat become one of the main hardware comparison sites for the Miniature Painting hobby. I'm proud that the search for "Best Airbrush for Miniatures" or "Best Brushes for Miniatures" puts this site in the number one results spot.
Heck if I ask my Google home what are the best of these tool categories, it speaks of the list from this site. Yay! Although it totally butchers the name! It's Faux like Faux Leather, Not Dumbledores bird.
Before I get on to the whole recruiting for the site thing, I want to take a look back at 2019
FauxHammer 2019
Hobby Resolutions 2019
Becasue everyone was doing it last year I decided to list some resolutions for FauxHammer. Some of them were quite daft and I left myself no room to actually achieve them. But still. Hitting 7 out of 11 wasn't bad. I'll be more sensible this year.
FauxHammer Website 2019
At the end of 2018, we were a good chunk of the way into Warhammer Conquest Subscription in the UK as much as I had written at the time was one post reviewing the first issue and giving my impressions of the upcoming sub. I had no intention to cover this magazine in any great detail. Then In January 2019, A Spanish website leaked the contents of every upcoming issue. They took that contents list down but not before numerous sites like ours captured all of the data. There have been some minor changes since the leak but we listed the contents of every upcoming issue and have regularly updated it. This article really helped springboard the site and bring more people to FauxHammer.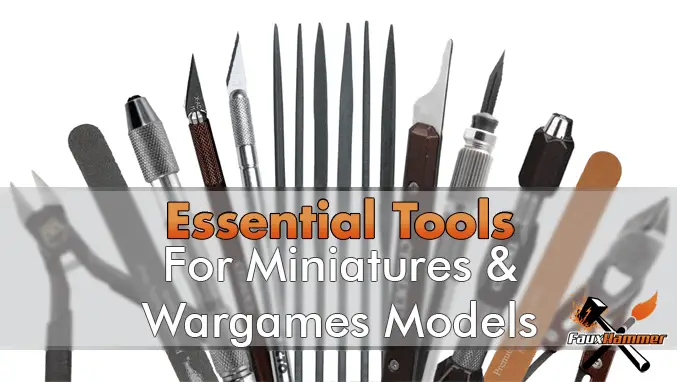 From there we continued covering the issues as they were released to make sure the contents were accurate. We now have just over 10 weeks left of that subscription. This gave us some room to focus on other content and my main passion, tools. We continued our Best of Articles by looking at the Best:
We also added a ton of news articles for some impressive Kickstarter Campaigns new Hobby Products and most of my time is taken up sourcing and reviewing the hobby products we covered in the articles listed above.
Another benefit to the growth was Brushstroke adding his incredible tutorials to the site. Brushstroke has been growing a huge audience (much bigger than mine) on Facebook and Instagram. He really stood out on Insta as his detailed tutorials fit withing the 9 image limit of all Instagram posts. Not to mention his buttery smooth painting style" Unfortunately, these posts could not be found through Google Searches, so using FauxHammer his guides became findable on the web and all linked back to his social profiles.
Alas, Brushstoke is now moving his tutorials to YouTube so they can't be translated to web pages anymore. Please support him by subscribing to his channel, it has been great to work with him and we've developed a good friendship over the year too.
Looking back at the growth of the site it's been incredible
Back when we properly launched in December 2018 we had just under 20,000 Monthly views. By March our total number of 2019 page vis eclipsed our total 2018 page visits. And we are currently getting around 65,000 monthly visits on average. So that's more visits a month than 2018 got in total.
On top of that, we increased our Instagram following to just over 5000 followers from around 800 last year. Facebook is at just over 2000 followers (when I originally wrote this it was just under 2k, literally hit 2k on New Years Eve, yay!) from 300 ish and Twitter still hasn't hit 1000 followers. Probably becasue I don't talk about politics.
On top of that, we have created 3 facebook groups for miniature painters which have grown quite large in themselves. If you haven't already joined them, please consider doing so, they are great resources for new and aspiring painters.
FauxHammer Website 2020
I have a lot planned for 2019, probably more than I can achieve alone. So let's take a quick look at what we've potentially got on.
Warhammer Mortal Realms
We're proud to say that we are now supported by Hachette and will be getting some exclusive news on the new subscription. I'll be sharing teh content of issues 1-10 early in the new year.
Whilst we are getting this official news, we haven't sold our soul. If we get the suggestion of content from other sources we'll still report on that too
Reviews
We still have a lot of products to review from our best-of lists. We also expect that new products will be released over the next year and are working with many suppliers to obtain review samples.
This is going to be my primary focus for the site, getting all the tools in a comparable format so that you can see what would be best for you to spend your money on.
Organisation
Writing content is hard, I don't like to rush, I like to take my time and get an article right, sometimes they can take weeks to create.
The site now has almost 200 articles and there are a lot of relationships between them I'm not taking advantage of. We have a high bounce rate on the site (that's the number of people who read one article and leave without reading something else). Yet the feedback we get from some of the more active followers is that the site is a goldmine of great articles (thank you so much). I need to find a way to reorganise the relationships between articles so people can navigate more easily and learn new stuff.
I always thought of the hardware articles in 3 levels, The top is one article listing all the essential tools. In the middle are the articles comparing all the tools in a particular category (the top 10 articles). The lowest level is the product reviews themselves.
I need to make it clear that those lower-level reviews are part of a larger series, and I need to make sure that the higher-level articles link to the more detailed ones below them.
I also need to go back over every article I've written and make sure they are up-to-date for this year and re-publish them.
Ideas
So, now I can talk about where I want to take the site next year.
First of all, I have an idea for another site, maybe two sites. All I can say on this right now is that I want to create something that is more of a "tool" for the whole community. It will be independent of FauxHammer.com and independent of any existing brand or manufacturer. But it's something I know I would want and depend on how difficult it is to build I may get a Beta site released for testing this year. At the very least I aim to have it fully road mapped to a full version 1.0. I'm not a web developer, however, so if you are and you're interested in building a hobby "thing". Get in touch.
Youtube
I've subtly launched a Youtube Channel as I want to start translating my articles to video. I'll be spending more time on this next year and hopefully getting more comfortable with video editing ( something which is holding me back at the mo).
Cover more content
I want to get the site to cover more news. I know Miniature Painting is very much a niche within the whole wargaming niche, but this is my passion and like many of the people reading it's probably yours too. There are plenty of sites out there covering the gaming side but not enough IMHO covering the Art. Here are some of the things I want to cover.
All New Product Announcement & Releases (not individual models)
Hobby Crowdfunding Campaigns (Indiegogo/Kickstarter etc)
Miniature Brands (Other than GW)
Painting Techniques
Painting Guides
3D Printing
Painting Competitions
Painting Courses
Painting Books
So yeah, that's a lot! I'm not going to be shy about this, I can't do all that. I need help. Possibly yours. I also just want to be clear up front. I don't want this to become a site that just regurgitates news from other sites.
The reader must always come first and I strive to write in a way that is relatable to users at multiple levels and from all countries. We've built a lot of great relationships over the last year with several well-known brands and we get a lot of inside knowledge. But I don't just want to be a press bulletin site, there are already sites that do that and this being one more won't add value. We need to be able to extrapolate around the news content and clearly deliver what these new products mean for the readers.
If you're interested in being part of that journey, please get in touch. Like with Brushstroke's articles your work would be published as authored by you and feel free to link back to any social profiles or websites you wish.
Hobby Resolutions 2020
So with all that ahead, here are my targets (resolutions) for 2020
Thanks everyone for reading, speak to you soon.