Encuentros épicos: revisión de Hive of the Ghoul-kin
Criaturas repugnantes se deslizan y arrastran por los lugares miserables de la tierra. Abominaciones de carne y hueso, apenas humanoides en apariencia, vuelven sus ojos amarillentos y envidiosos hacia todos los demás. Llenas solo de odio e impulsadas por deseos innatos de destrucción, estas criaturas matarán a cualquier grupo de aventureros lo suficientemente valiente como para descender a su guarida. Descubra qué mal se está gestando en nuestros Epic Encounters: Hive of the Ghoul-Kin Review
Epic Encounters: Hive of the Ghoul-kin Review – Summary
Hive of the Ghoul-kin is the best Epic Encounter to date. It contains all the same high-quality content for running your Dungeons and Dragons encounter that one would expect of any Epic Encounters box, it's the miniatures in Hive of the Ghoul-kin that make the box something truly special.
Epic Encounters: Hive of the Ghoul-kin Review – Introduction
We're back with more of Steramforged Games' Epic Encounters!
For those of you who missed it, a few weeks ago we sat down with two of SFG's Epic Encounters boxes – namely Arena de la horda de muertos vivientes y Torre de la Emperatriz Exánime – and gave them a true-to-form FauxHammer.com top-to-bottom appraisal. We then assembled a squad of D&Ders and took them to one of our favourite gaming venues to give the boxes a proper run-through.
Tuvimos una explosión absoluta. Las cajas eran geniales y todos se divirtieron mucho.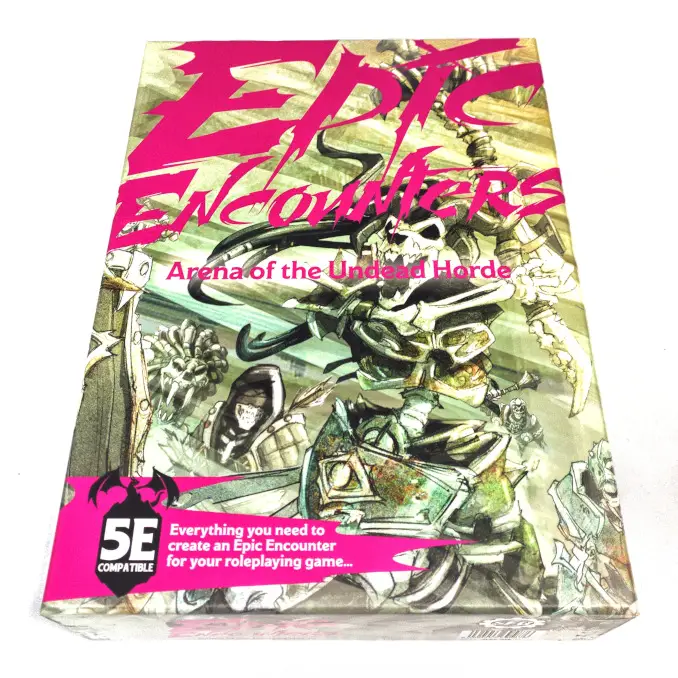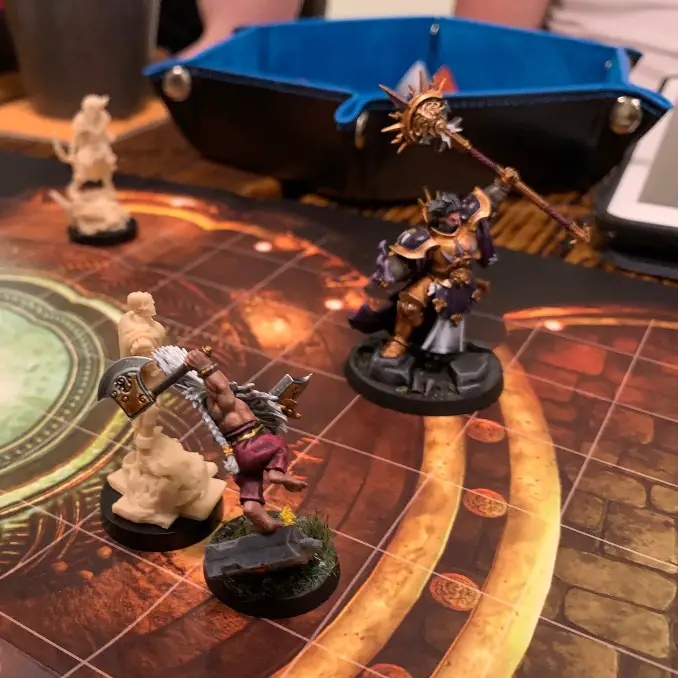 Well, SFG loved what we did, so they sent us some more boxes to try out! Aren't they nice?
SFG's Epic Encounters boxes come in two flavours: Warband boxes and Boss boxes. Warband boxes, like Hive of the Ghoul-kin, are built around encounters with lots of enemies for your party to grapple with. Boss boxes, as you may suspect, instead focus on one large, climactic fight with a much larger enemy.
This time, we'll be having a look at SFG's latest Warband box: Colmena de los Ghoul-kin.
Epic Encounters: Hive of the Ghoul-kin Review – Unboxing
Getting straight into it, then, here's the Hive of the Ghoul-kin box.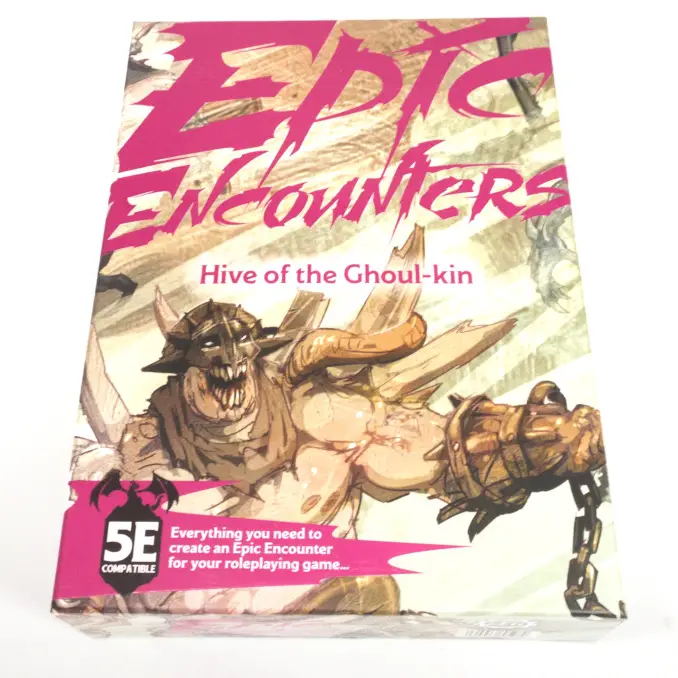 It's a relatively chunky box, but it's not so large, nor is it so heavy, that it'll be cumbersome taking it to and from your games night venue. The box art depicts the Ghoul-kin Brood-Sire, a monster we'll see more of a little later in this review.
Levantando la tapa, esto es lo que obtenemos.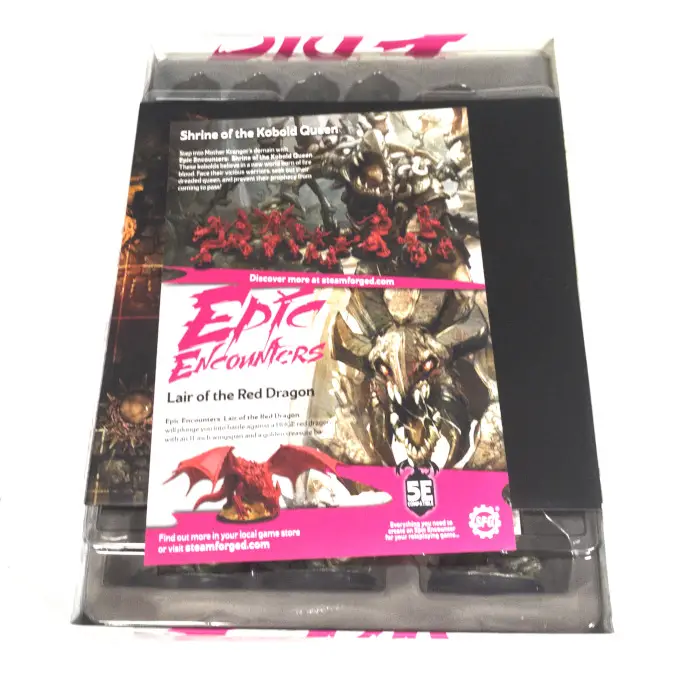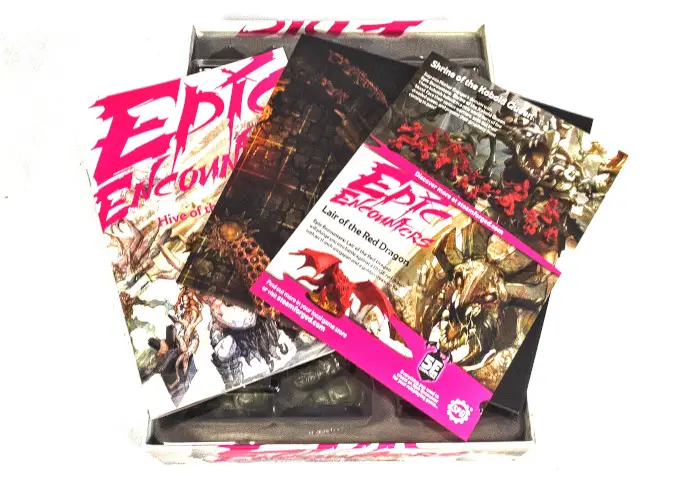 That's a flyer with more information on other Epic Encounters sets available, the double-sided gaming mat, and the all-important Campaign Booklet. With the exception of the flyer, we'll have a look mat all of these in more detail shortly.
Poniéndolos a un lado, tenemos nuestras miniaturas.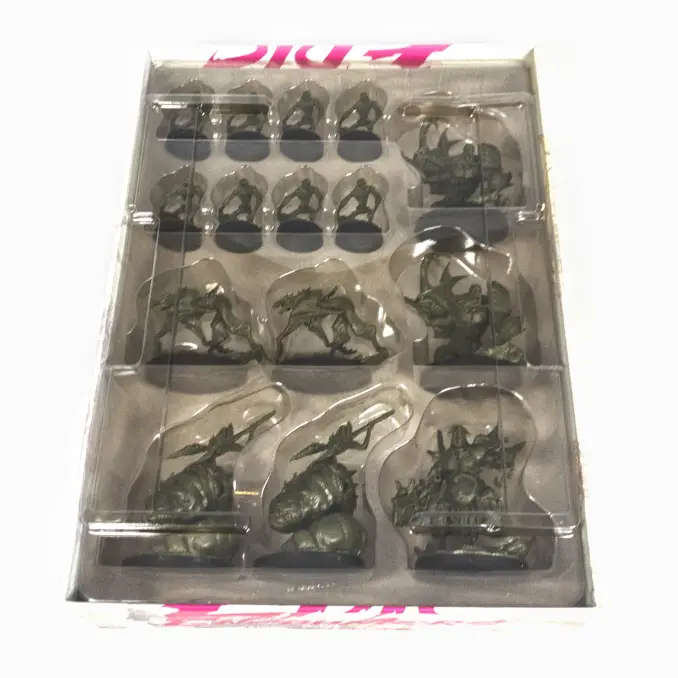 With every Epic Encounters set we've looked at here at FauxHammer.com, we've always been very impressed by the quality of the packaging. Miniatures and models in these boxes are always very carefully packaged in a cleverly designed plastic case. Their individual slots keep them secure and prevent them from rolling around, however they aren't so tight in their case that you'll struggle or damage them when trying to remove them.
Epic Encounters: Hive of the Ghoul-kin Review – Contents
Here's a list of everything up for grabs in the Hive of the Ghoul-kin Epic Encounters box:
1 folleto de campaña.
1 alfombrilla de juego de doble cara tamaño A2
15 miniaturas.
On the surface, this might not look like all that much. There are only three entries on the list above, after all. There are a couple of quite big "howevers".
The first is that you get no fewer than 15 miniatures. These aren't low-quality figures covered in mould lines and bereft of details. As we'll see in a minute, these are some really nice models.
Next up – and most critically, in our opinion – is the quality of the Campaign Booklet, which we'll analyse now.
Libros
You might not think it when you first open up the box, but Hive of the Ghoul-kin's 40-page Campaign Booklet is the most important resource in the set.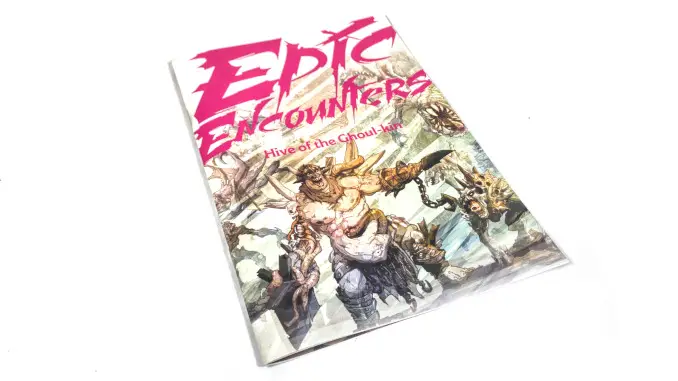 Sure, players and DMs/GMs alike will appreciate the nice map and cool minis when they are on the tabletop. But they would be useless without an adventure to be used with – and Hive of the Ghoul-kin's Campaign Booklet gives you everything you need to quickly and easily establish your own adventure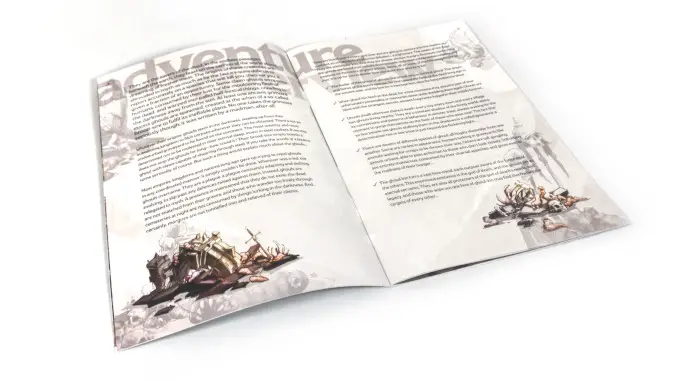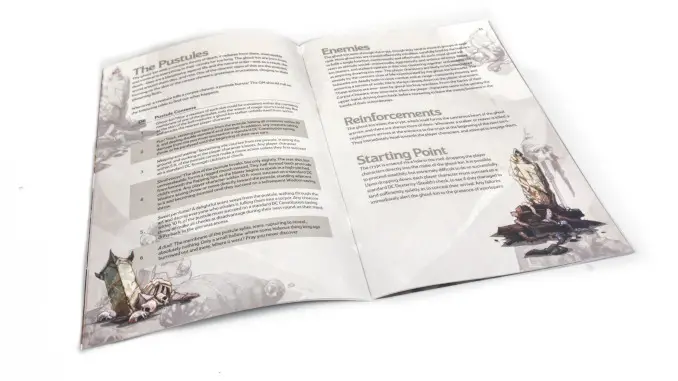 That's the beauty of this booklet. On the one hand, it provides you with all the information you could possibly need to establish your own adventure out of this box and this box alone. Simultaneously, it is not so restrictive (or, to use a D&D term, it doesn't railroad you) that it denies you the flexibility to make the source material your own.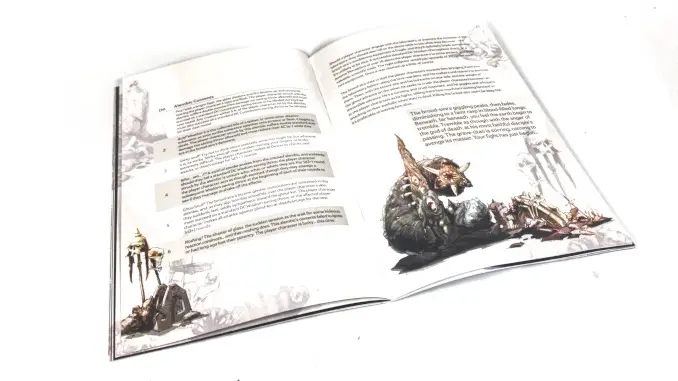 No part of the book is contingent on any other part of the book. It makes suggestions, and you are free to use as many or as few of them a you want. Forgot to plan tonight's encounter? No problem, let Hive of the Ghoul-kin take the reins. Alternatively, just want a few background ideas to pad out your 99% complete campaign? Pick and choose what bits suit you from the campaign book.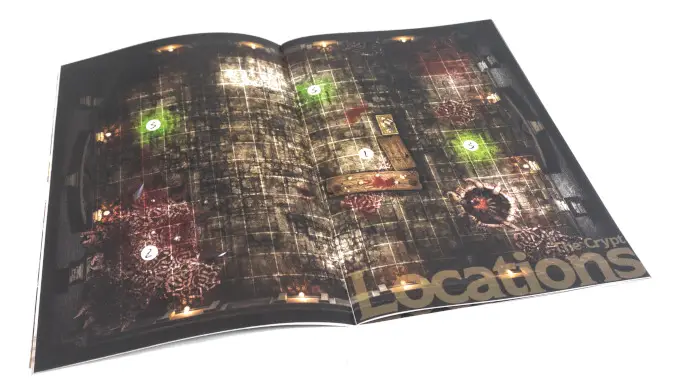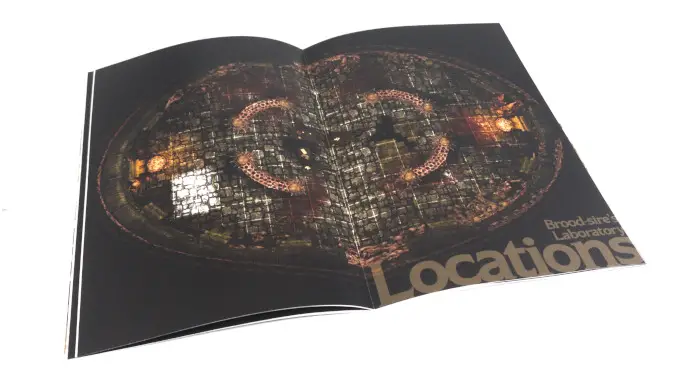 Absolutamente todo ha sido pensado. El libro viene con párrafos de trasfondo de aventuras y tramas narrativas para mantener a los jugadores atraídos y aliviar la presión sobre los DM/GM que pueden tener dificultades para encontrar ese tipo de cosas. Hay notas sobre CD y daño para ayudar a garantizar que los encuentros sean desafiantes en un grado apropiado según sus niveles.
Of course, there are guides on how to use the maps that come with the set, including labelled features the players and the DM/GM can use to keep encounters exciting. And there's even a (slightly disturbing) table on "Pustules". The Ghoul-kin are covered in foul buboes that burst when they die and do some horrible things to the player characters.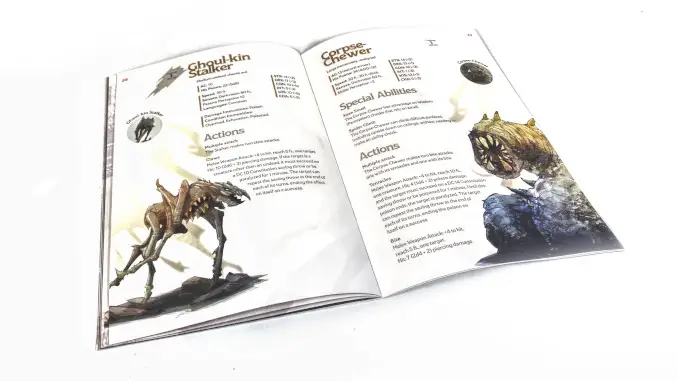 Y, por supuesto, hay estadísticas. Un montón de preciosas tablas de estadísticas para garantizar que los DM/GM sean capaces de dominar eficazmente a los secuaces del Ghoul-kin Brood Sire en la defensa de su vil hogar.
El libro es excelente, no solo como recurso para llevar a cabo una campaña con el tema de los Ghoul-kin, sino también como referencia para diseñar tu propio encuentro. Adapte los encabezados y las ideas del folleto de la campaña Hive of the Ghoul-kin para satisfacer sus propias necesidades.
It's a brilliant resource, and proof that D&D does not need to be complicated.
Engranaje de la guerra
The "Wargear" section – the collective name we give to the extras in any box that are all about playing the game they are associated with – for Hive of the Ghoul-kin isn't a big one.
Aside from the miniatures (which we'll get to shortly) and the lovely Campaign Booklet, there's only one other thing in the Hive of the Ghoul-kin Epic Encounter: the double-sided gaming mat.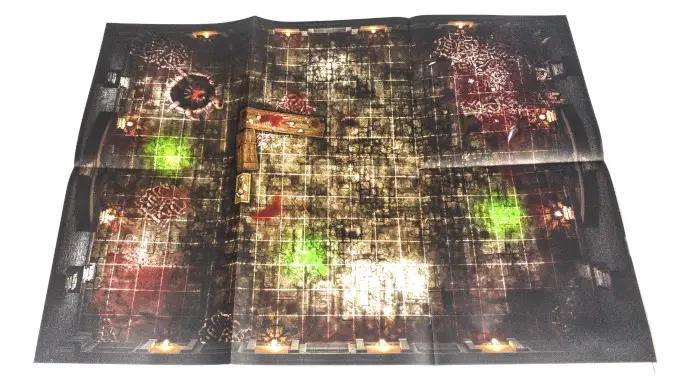 Each side of the map represents a different named location from the Campaign Booklet. The side above represents the Crypts. The side below depicts the Brood-Sire's Laboratory.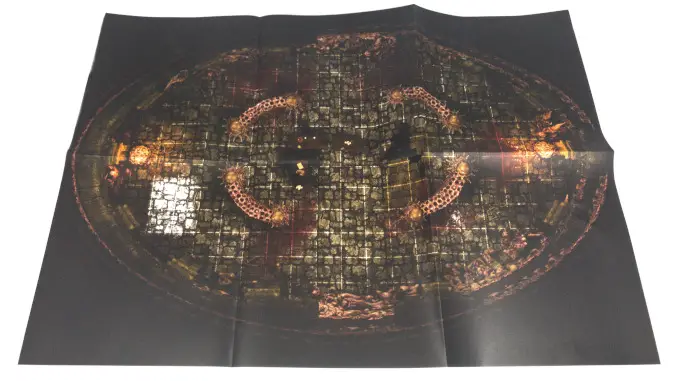 Each map is clearly printed with lots of environmental details. Some of these pertain to features considered in the Campaign Booklet, so can be interacted with by players and NPCs. There's plenty of space for players to move around and bits of cover and other obstacles that can be featured in play. Each map is also printed with a grid to guide unit placement.
The only criticism we have of these maps is what they're made of. Whilst the high-grade, good-quality paper will last a long time provided it's cared for appropriately, that it es paper does mean it is prone to fold lines – as you can see in the image above. This can cause obstructions during play if the square you want to move into has a ridge in it, and the print along the fold lines is most likely to fray and flake off.
Miniaturas
Ahora llegamos a la parte buena.
And this time around, it's De Verdad bueno.
Hay 15 miniaturas en la caja Encuentros épicos de Hive of the Ghoul-kin. Estos vienen como:
8 x Saqueadores de parientes necrófagos
2 acechadores de parientes necrófagos
2 baluartes de parientes necrófagos
2 x Ghoul-kin Coprse-Chewers y Hive-Wardens
1 x padre de cría de parientes necrófagos
Aquí todos están junto a un Marine Espacial de confianza para que puedas hacerte una idea de su tamaño.

Las figuras son monoponer Esto significa que los 8 Ghoul-kin Reavers comparten una escultura y así sucesivamente. Al principio, esto puede parecer un poco vergonzoso (las modelos son preciosas, así que ¿por qué no tener poses variantes?), pero como descubrimos cuando prueba de juego Arena de la horda de muertos vivientes, that the figures are all monopose is a huge help to DMs/GMs and players. It's much easier to tell who is who and what is what at a glance and saves any confusion on the tabletop.
Let's take a look at each model in turn.
Saqueador de necrófagos
The Ghoul-kin Reaver is the smallest of the models in the Hive of the Ghoul-kin Box – but that doesn't mean it's not a deadly adversary.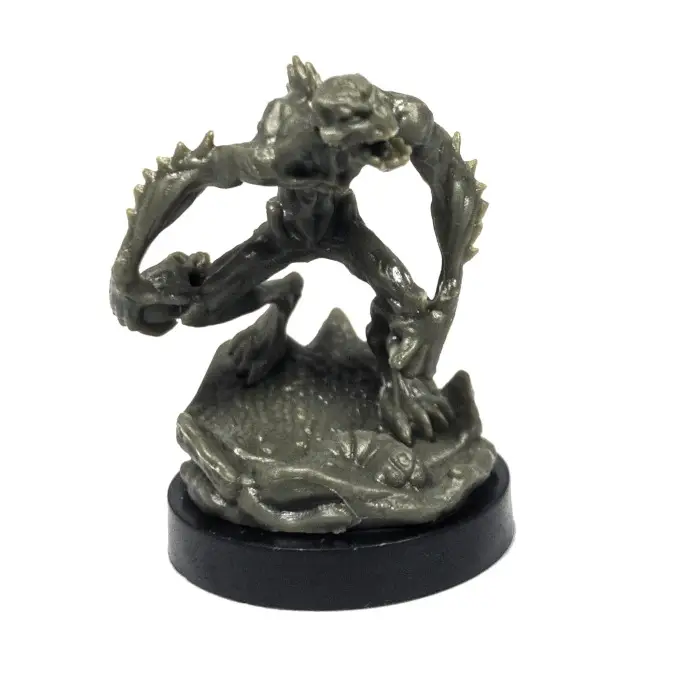 Preparado para saltar sobre su base esculpida, agarrando una calavera en una mano y con un gusano gordo retorciéndose a sus pies, el Ghoul-kin Reaver marca la pauta para el resto de las miniaturas de la caja casi a la perfección.
Nos recuerdan un poco a los Ghûls from Middle-earth: Shadow of War, para aquellos de ustedes que están familiarizados. Tienen una energía similar de bajo equilibrio, a punto de enjambre. Obtienes 8 de estos en la caja, así que prepárate para enjambrar a tus jugadores con un grupo de estos enemigos con colmillos y garras.
Acechador de necrófagos
El Ghoul-kin Stalker es posiblemente el modelo más exclusivo de la caja Hive of the Ghoul-kin. Una amalgama cuadrúpeda de piel estirada y espinas afiladas como navajas, el acosador es tan mortal como espeluznante. Obtienes dos de estos terrores en la caja Hive of the Ghoul-kin.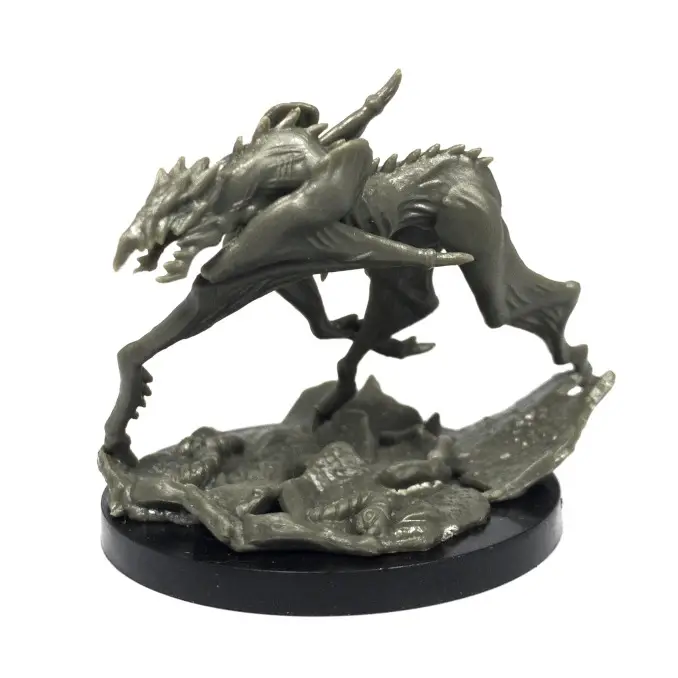 There are some lovely details on this miniature, too. Thoughtful placement of stretch and torsion lines on the skin, along with scrapes and scars, adds a real sense of character and movement to these models. With the addition of the sculpted elements on the base, you get a real sense of this creature skittering across rubble, ready to dive from the shadows and strike at the adventuring party at a moment's notice.
Guardián de la colmena mordecadáveres y parientes necrófagos
It's not very easy to manoeuvre a horse inside an evil subterranean hive full of dead stuff and rotten matter. So, those denizens of the Hive of the Ghoul-kin need to find another way of getting around.
¿Por qué no un gusano enorme y viscoso?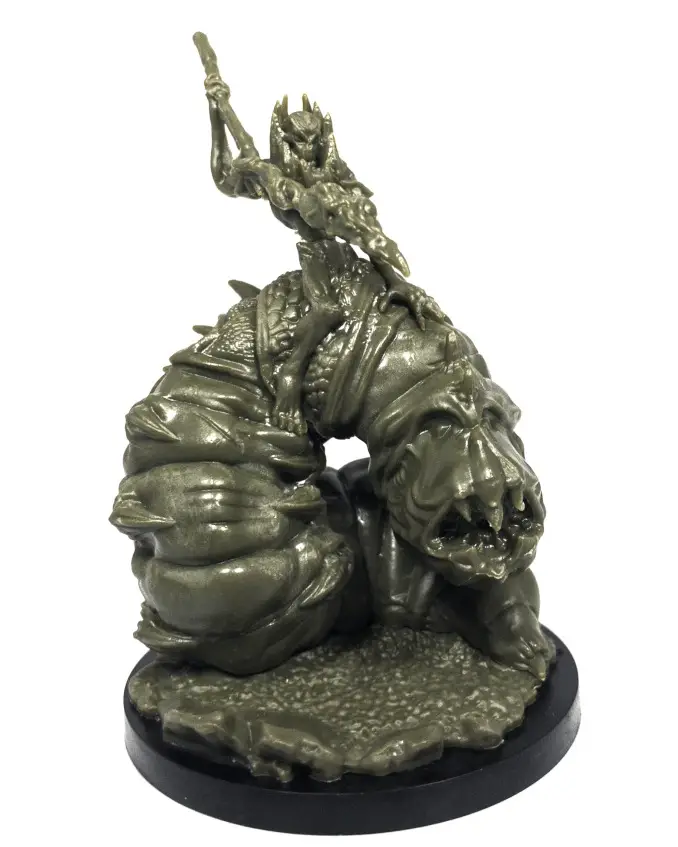 The Ghoul-Kin Hive Warden – a less primitive-looking variant of the Reaver, by the looks – sits astride a heaving Corpse-Chewer. Again, the figure looks great with all the appropriate maggot-y details. Horrible little claw-feet, a chill-inducing stinger, a split maw filled with tusk-like fangs.
These ravenous worms will be a real headache for any adventuring party, as they can climb walls and adhere to ceilings. There are two in the box, so drop a couple of ten-foot-long maggots with goblinoid monsters riding on their backs onto the heads of your party from a shadowy alcove at the top of a cave – I'm sure they'll thank you for it!
Baluarte de los necrófagos
El enorme Baluarte Ghoul-kin es una unidad absoluta. Este monstruo extrafuerte y extraduro, un nudo pesado de músculos nervudos y garras, será un adversario desafiante para cualquier grupo de aventureros. Que haya dos en la caja significa que pueden causar el doble de dolor.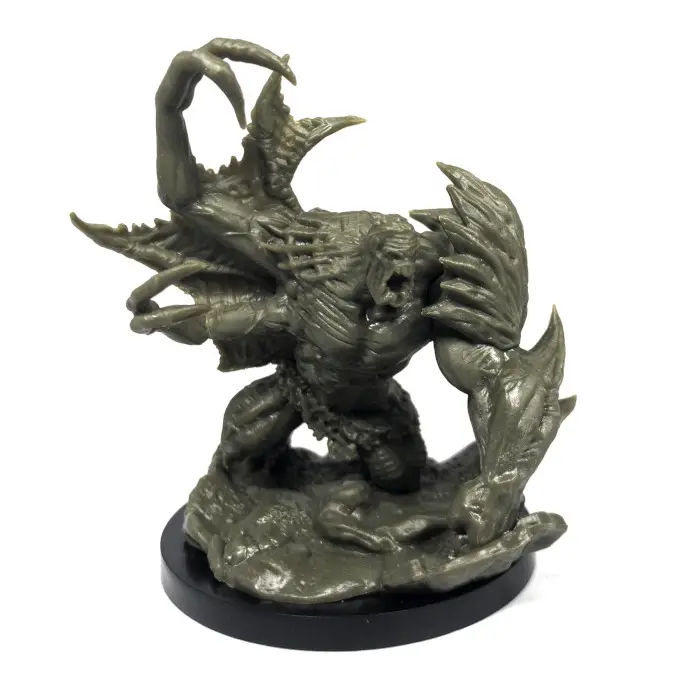 A titanic behemoth of blood and bone, the Bulwark is a seriously impressive model. Gorilla-like in its silhouette, lurching forwards with its arms raised to strike, it's an intimidating beast. Its flesh and muscles are very carefully sculpted with great texture to give the model a sinewy, stretched, unnatural feeling.
If not for the miniature we're about to get to, the Bulwark would be our favourite mini in the box. However, it's pipped to the post at the last moment by the…
Padre de progenie de los necrófagos
The Ghoul-kin Brood-Sire hace su transición de la obra de arte en el frente de la caja y el libro de campaña a una forma miniaturizada con un estilo supremo.
This truly disturbing miniature, takes everything that's made the other figures in the box gross, rolls it into a squelching, blubbery ball, and dials it up to 11.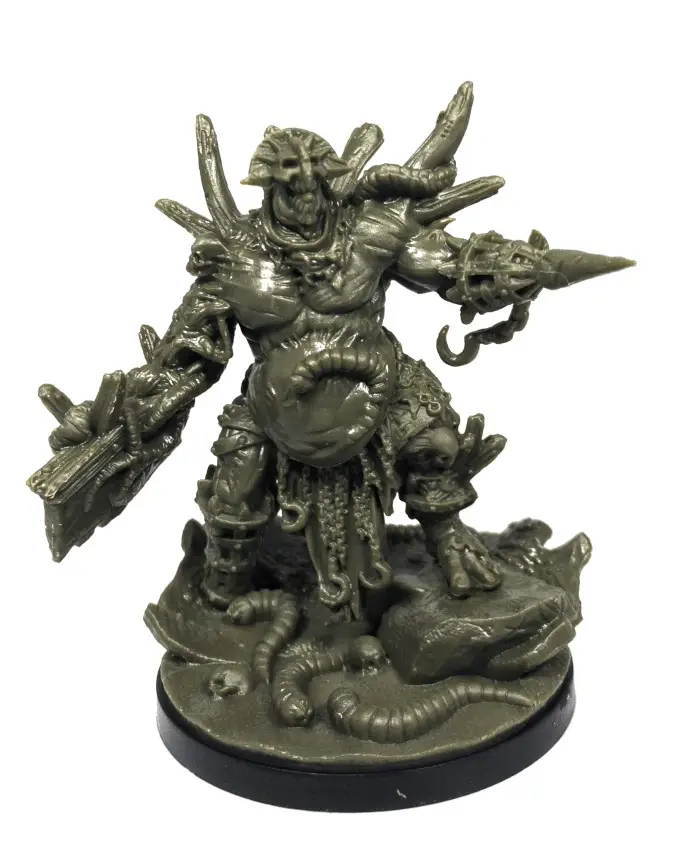 He's really, De Verdad horrible. Rodeado de gusanos con forma de serpiente y él mismo una fusión de carne distendida y armas y armaduras toscamente hechas, el Ghoul-kin Brood-Sire es la mejor manera de terminar este encuentro.
He is truly vile. The designer of this miniature has relished placing texture on the flesh of this miniature – stretch-lines and points of tension designed to make onlookers feel as grossed-out as possible. He's absolutely disgusting – and totally brilliant.
Resumen de miniaturas
¡Qué selección! Tan repugnantes como fantásticas, la selección de miniaturas en Hive of the Ghoul-kin es excelente. Que obtengas 15 de ellos es una ventaja adicional.
Las miniaturas de la caja Encuentros épicos de Hive of the Ghoul-kin son absolutamente excelentes. Cada uno está tan lleno de individualidad y malevolencia que esperas que comiencen a saltar alrededor de la mesa, tratando de morder cosas.
Someone somewhere had a huge amount of fun designing and sculpting these terrors – and it really shows. Each is a character in itself, and will delight miniature painters and D&Ders on game night alike.
Epic Encounters: Hive of the Ghoul-kin Review – Playtesting
Como se merece un producto de esta calidad, una vez más reunimos al equipo de D&Ders para un par de sesiones más y los llevamos a La mesa de juegos en Norwich.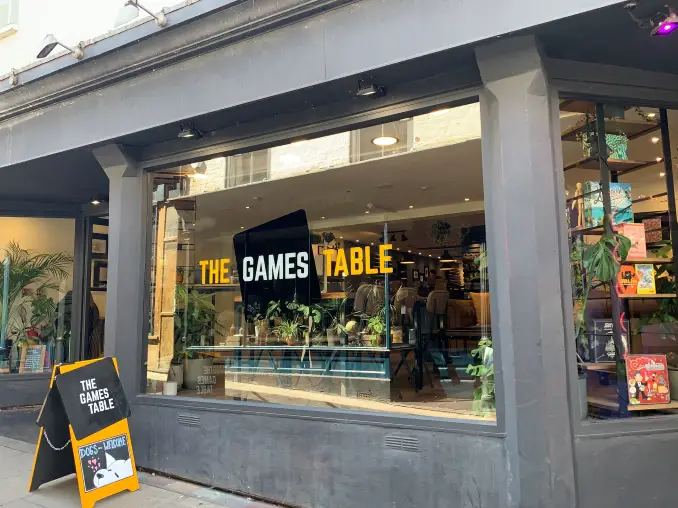 We'll talk you through the process we undertook to create our encounter using Hive of the Ghoul-kin in our How to Play article, as well as get some feedback from our team of intrepid adventurers.
Sin embargo, el resumen de Cómo jugar es que Hive of the Ghoul-kin es absolutamente todo lo que necesitas para una gran noche de juegos. Los DM/GM reciben todo lo que necesitan para llevar a cabo su encuentro, y esos recursos mantendrán a los jugadores interesados y comprometidos con su aventura.
Epic Encounters: Hive of the Ghoul-kin Review – Price and Availability
Directo desde Steamforged Games' webstore, Hive of the Ghoul-kin will set you back £54.99GBP, $54.99USD, or €54.95EUR.
Para un conjunto que contiene todo lo que necesitas para ejecutar un encuentro de Super Dungeons and Dragons (y tal vez expandirlo en una aventura más larga) y te proporciona 15 increíbles miniaturas que puedes pintar, Hive of the Ghoul-kin es un robo absoluto.
Epic Encounters: Hive of the Ghoul-kin Review – Where to Next?
After Hive of the Ghoul-kin, there's only one place you really can go. Grab yourself a copy of Barrow of the Corpse Crawler – the Boss box that accompanied the Hive og the Ghoul-kin Warband box.
Venture deeper into the fell crypts of the Ghoul-kin and see what else awaits you there (note, it's quite large, pretty gross, and not very pleased to see you).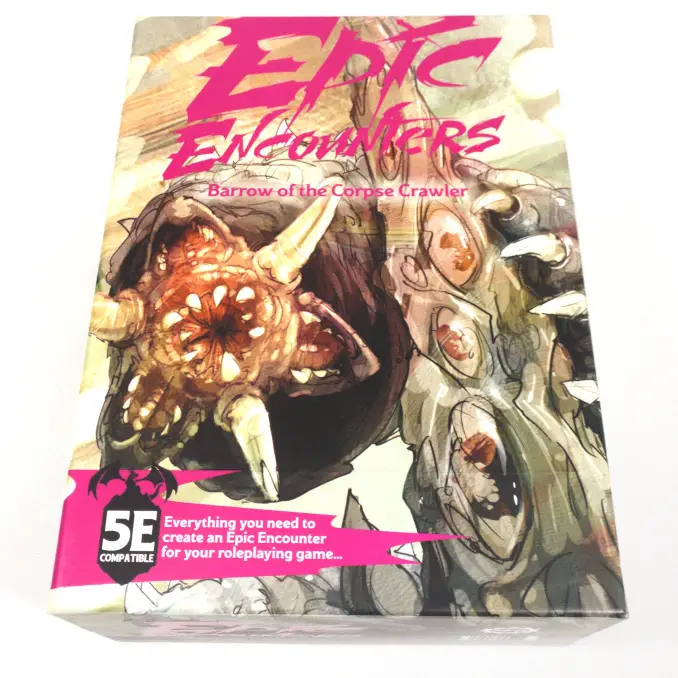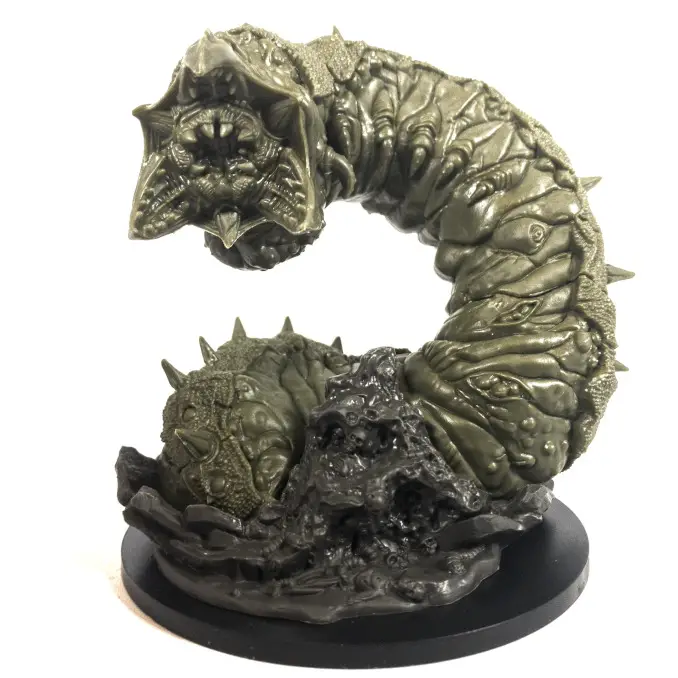 También recomendamos encarecidamente Arena de la horda de muertos vivientes y Torre de la Emperatriz Exánime. If you're running an undead-themed campaign into which Hive of the Ghoul-kin can fit, you'll likely be able to make great use of these boxes too.
Epic Encounters: Hive of the Ghoul-kin Review – Final Thoughts
Pros
Contras
Impresionantes miniaturas
Excelentes recursos para los DM
Embalaje pensativo
Libro de campaña útil que es a la vez perspicaz y flexible
Se puede ejecutar como una aventura única o como parte de una campaña más grande
Los tapetes de papel son propensos a las líneas de pliegue
Después de nuestras temporadas anteriores con Arena de la horda de muertos vivientes y Torre de la Emperatriz Exánime, me preocupaba que el listón se hubiera puesto demasiado alto. Estas cajas eran excelentes, rebosantes de horas de contenido y mil formas de hacer que tu sesión de D&D sea inolvidable. ¿Cómo podría algo más acercarse a ser tan bueno?
Bueno, con una facilidad sorprendente, de hecho.
Manteniéndose cerca de la fórmula probada y comprobada, pero con algunos giros temáticos para mantener las cosas frescas y emocionantes, Hive of the Ghoul-kin solidifica su lugar como una entrada apropiadamente épica en la serie Epic Encounters. Una vez más, tiene todo lo que un grupo de Dungeons and Dragons necesita para su noche de juegos: mapas detallados, miniaturas fantásticas y un montón de formas de jugar el encuentro.
Una vez más, excelente.