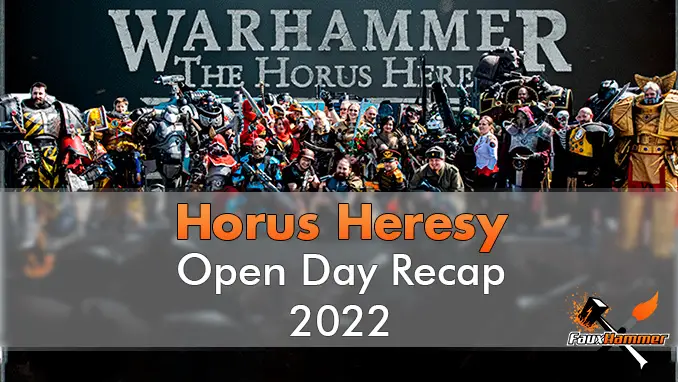 So it happened, one of the best, sorry no. Not "one of". This was the best Open Day Warhammer World has ever hosted. They had Gaming, Painting Influencers, and Cosplayers Galore. They had Food and Drinks and Videogames and Highly detailed paint jobs all over the place. Oh, and it was something to do with Horus Heresy apparently. Come and check out what the Horus Heresy 2022 Open day was all about
Haga clic en este enlace y compre sus cosas de hobby en Element Games para el Reino Unido y Europa para admitir FauxHammer.com - Use el código "FAUX2768"En la caja para obtener puntos de recompensa doble.


Nuestros afiliados / tiendas de hobby
Horus Heresy Open Day 2022 – Introduction
So, the Horus Heresy Open day marks the first full open day since that whole covid debacle. I remember the last one I was at prior to the 2020, Which was in fact the 2020 New Years' Open Day. Which was good you maybe meet a few people you may know and a couple of bits were announced live and shown off on-screen as the rest of the world watched on from Warhammer-Community.com. you'd even see those models, live, in person.
And since then we have had other open days but these were split down into separate 4-hour sessions over multiple days. Just to be a bit safer around the spread of Covid. And now finally, we once again have a full dedicated day to this particular topic. The new Horus Heresy boxed set, Age of Darkness.
Now, whilst there were a few things to do on the day, You could play the new game (I didn't so I have nothing to show on that). You could paint one of the new Mk VII marines. you could meet some of the industry's popular Influencers and you could see artwork completed by many of them
Anyway. let's have a look at (mostly the cosplay) from the event.
Horus Heresy Open Day 2022 – Painting
As I said I didn't do any of the playing the game. I actually had a wedding to shoot this same day so I was there in the morning, took a 2-hour gap and went back for the afternoon. But I still managed to get near the paint table where you got one of the new minis primed in either black or white. sit down with some citadel brushes and paints and just chill, chat and watch Warhammer Live – Live on the big screen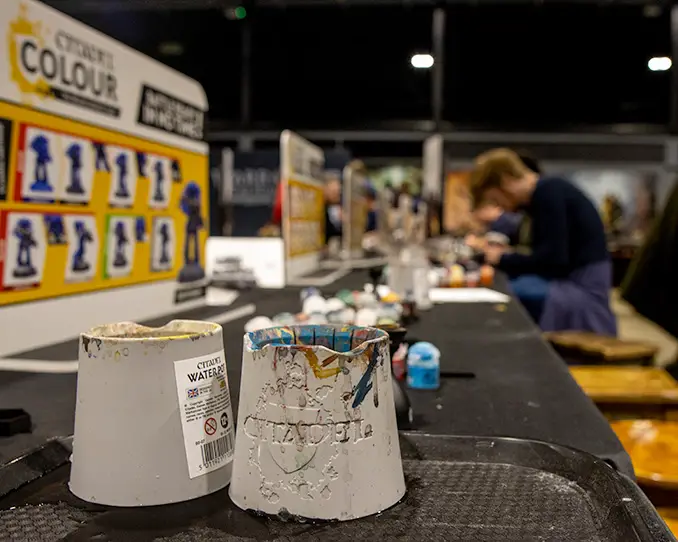 Now, due to my mid-day absence, I wasn't able to get my hands on one of these early models. But I went back later in the day when they pulled some spares from the gaming tables and i got my hands on this. (the Middle one)
Now, forgive me if I'm wrong, but I did notice that this had been primed for a Sons of Horus Chapter from what appeared to be a spray can (based on the texture of the sprayed paint). As far as I'm aware, this is not something which currently exists – so is this an upcoming product?
Anyway, instead of painting at the event – I brought my model home to become the first of my DeathGuard models
I'll have a video up soon on Youtube showing how I did it quickly. If you are interested Subscribe Here.
The most popular part of the event though (due to the constant queue) was the display cabinets of models painted by both the Warhammer Studio team and the influencers who attended the event.
Most of my snaps didn't come out great but I did manage to get this one of Mortarion painted by the very talented Martin Waller.
This was also the model that inspired my choice of Deathguard for the MK VII Beakie above.
Horus Heresy Open Day 2022 – Influencers
For the first time (I know of) GW actually decided to fly in many popular influencers from all over the globe. The likes of Angel Giraldez, Jon Ninas (Ninjon) Stahly (Tale of Painters), and the guys from Siege Studios among many others. Between them, these guys managed to paint up Vthe various legions from the boxed set along with all of the Primarchs. These are the models on display in the aforementioned cabinets.
My Invite of course went missing in the post, so I just paid to get in like everyone else.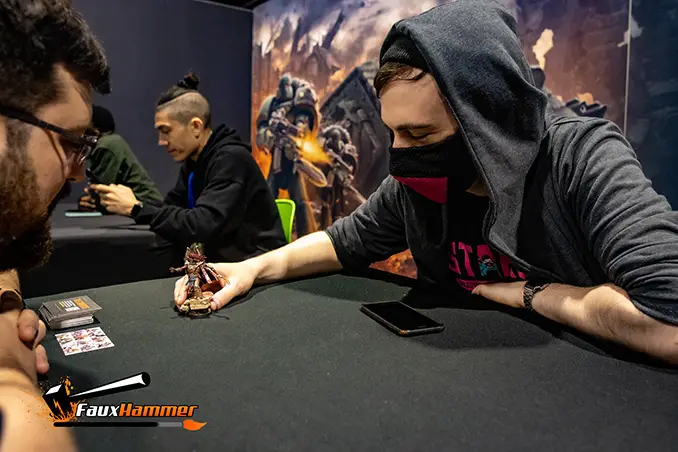 I was lucky enough to spend most of the day hanging around with Stahly, who I've been a fan of for a long time. And as a fellow blogger, we've gotten on quite well for a good time now. I spend a good chunk of time discussing excitement for Warhammer: The Old World with Ed who I met a few years back on a painting course by David Soper, and who is an incredible artist in his own right.
There were so many people there on the day, I managed to snap shots with a ton of them for my Instagram.
Horus Heresy Open Day 2022 – Influencers
Now, you may love or hate cosplay. but I'm a huge fan of what was on display, and as I said at the head of this article. that is what is mostly going to be shown below.
I have better quality versions of these shots, so if you are in here and want a copy of the higher-res version, give me a shout. you knowhow.
The detail and scale of many of these were so incredible. up first is Limestone Forge in an amazing Imperial Fists outfit.
Look at the detail on that! I did have a load of other shots but they haven't come out so well. not well enough to share anyway. Sorry Em, that's my bad.
Next, we have the amazing Iron Warrior Cosplay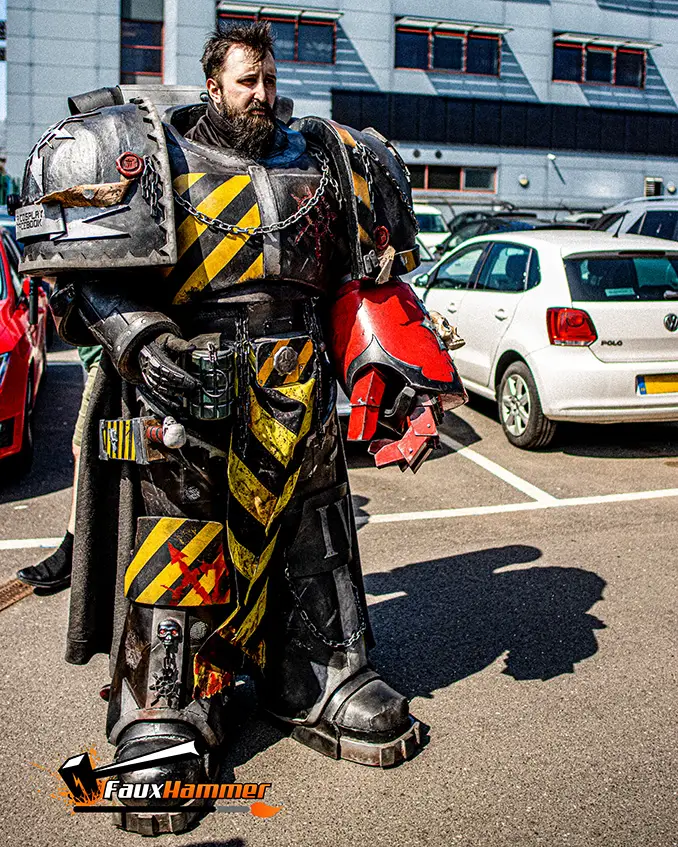 And the Two of them together. Apparently, in the Grim Darkness of the Far Future, There is only war..
And Bro-Fist
I genuinely could not gett enough of what was going off here!
Another amazing costume comes from Rachael Huntington, in the form of an Eldar Incubi Warrior.
The detail on this is superb
Make sure to give Rachael a follow and watch as she upgrades her howling Banshee Costume.
This Death Company Blood Angel was another stand out with incredible detail.
To see more of this one, check out WeetoBuilds. This chapter Icon is better than what JoyToy did with their Death company Models. It's in the right place for one.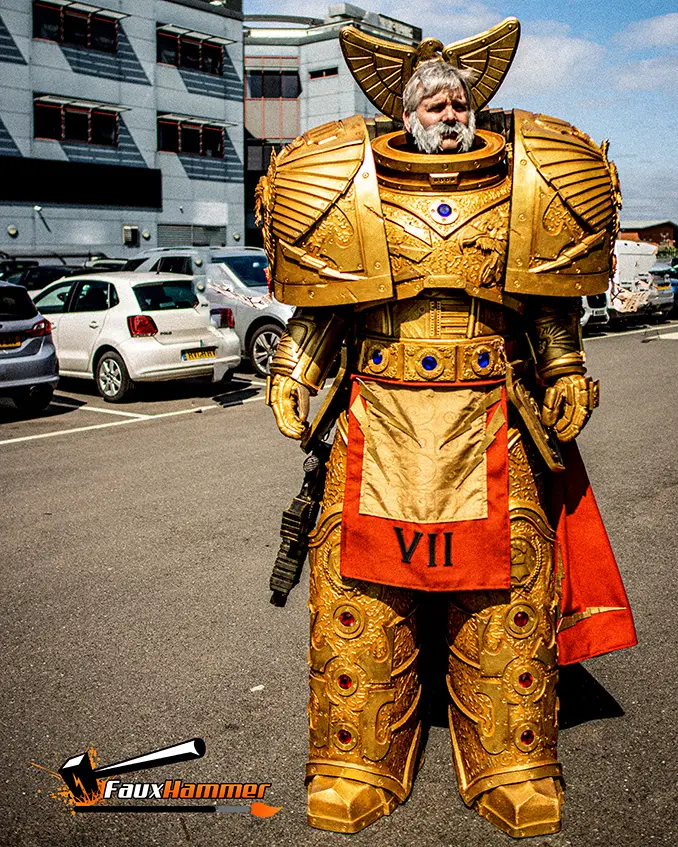 If you are into your Sons of Dorn, then you should like their dad. here is one incredible Rogal Dorn Cosplay from Corporate Motion
I got a little obsessed with shots of the armour detail with a blurred subject in the background. but it's worth it to really see that detail up close.
And it wouldn't be a Horus Heresy Open Day without an appearance from the Warmaster himself.
The scale of these things was absolutely terrifying at times!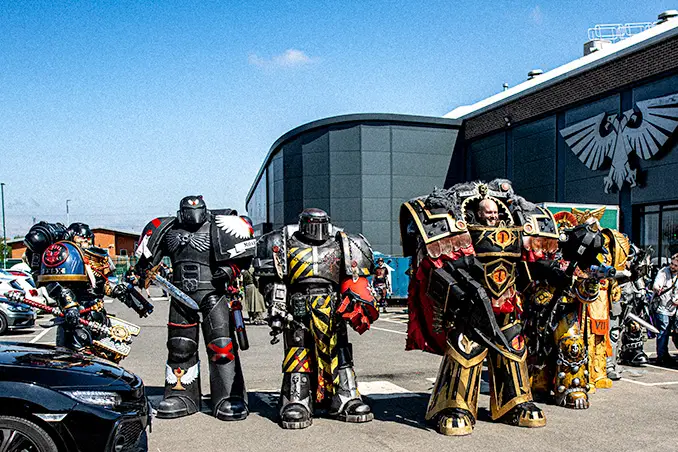 Still, we had some fun, even re-creating the Abby Road cover
And this wasn't all, there were an absolute ton of cosplays that I unfortunately just didn't get high-quality images of. But to be fair, there were a ton of people to clamber in front of to get shots, and much of the time it was rude to do so.
Horus Heresy Open Day 2022 – The Staff
One thing which often doesn't get thought about on days like these is the staff. Imagine working retail and on 90% of your days you have a steady stream off staff, then all of a sudden you're working a Saturday and it is 100x busier.
But these guys need some applause, not only for doing the job, but for the energy they kept up throughout the whole day.
So from the organisers to the operators on the day, thank you for making this awesome day happen for the wider Warhammer community of fans.
Horus Heresy Open Day 2022 – Final Thoughts
Honestly, it was a great day, being able to hang out and see so many of the people you've known from the internet for the last couple of years. Seeing the amazing paint jobs yup close.
But mostly, for just once again being able to share in the love of something with your fellow person.
And to close I want to thank these guys who came all the way from Ireland that morning to visit Warhammer World. And they just sat and drank on the balcony outside Bugman's – which was now open once again. and to their mate (not pictured) who would not stop hugging me and ended every sentence with FauxHammer!
Thanks Lads! My inner-narcissist needed that.
Haga clic en este enlace y compre sus cosas de hobby en Element Games para el Reino Unido y Europa para admitir FauxHammer.com - Use el código "FAUX2768"En la caja para obtener puntos de recompensa doble.


Nuestros afiliados / tiendas de hobby
¿Qué te pareció este artículo? Por favor, háganos saber en los comentarios.
Si le gusta lo que estamos haciendo aquí, realmente podría ayudar a fomentar más contenido con un recurso compartido en cualquier plataforma de redes sociales.
Haga clic en los enlaces para compartir en la parte inferior de esta pantalla (o en la izquierda para computadoras y tabletas)
¿Quieres mantenerte actualizado con el blog? Puede suscribirse en la barra lateral para RSS o por correo electrónico a continuación
(La barra lateral está debajo del artículo sobre dispositivos móviles)