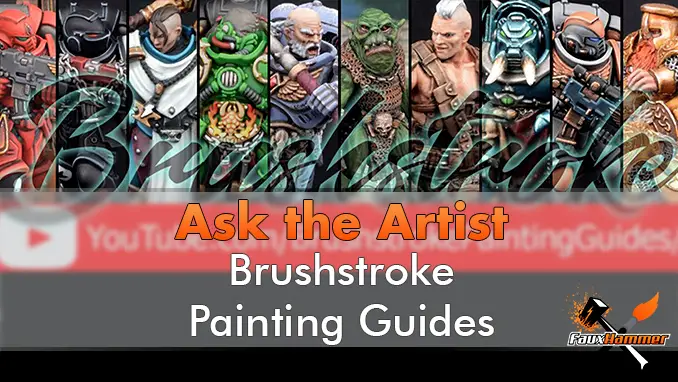 Ladies and gents, allow me to introduce you to James Collard, or, as he's known in the hobby-sphere: Brushstroke! My first introduction to Brushstroke was when I watched his YouTube video outlining his method for painting Black Legion Terminators.
Click this link & buy your hobby stuff from Element Games for the UK & Europe to support FauxHammer.com – Use Code "FAUX2768" at the checkout for double reward points.


15% off Phrozen with code: "22PRFHDP15"

Our Affiliates / Hobby Stores
I was absolutely blown away by how crisp and clean his work was. Since this was nearly a year ago, I thought his skills were unbelievably out of reach. However, due to his approachable and personable teaching style, I felt comfortable enough to try it.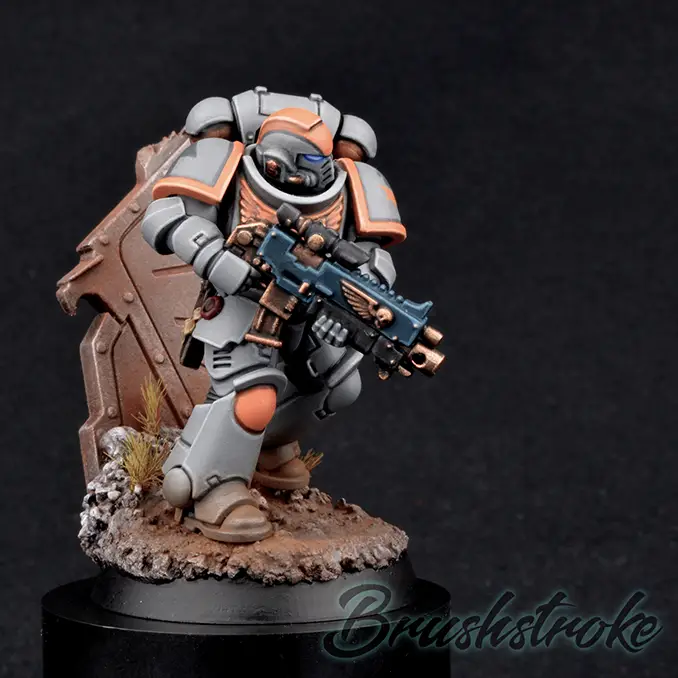 Little did I know, thanks to his professional relationship with the FauxHammer Blog, I'd have the ability to pick this wonderful artist's brain mere months later!
James Collard – Brushstroke – Ask the Artist
Who are you / What is your place in the hobby?
My place is as a hobby painter and paint guide writer / YouTuber.
Since starting painting I've had people asking how I paint my miniatures, especially with regards to my smoothness of painting.
So, I started writing short paint guides to help show people my process, just like others helped me when I first started. I'm pleased to say they've become very popular and as a result, I've now started to make video painting guides to try and show the steps in more detail.
How long have you been in the hobby in general?
I'm a really late joiner to the hobby, as I only started painting at the age of 37, back in 2014.
What initially drew you into the hobby?
It all started for me on a family holiday on the Isle of Wight, where we ducked into a local toy shop to escape the rain and it happened to have a small tabletop miniatures section. My wife suggested, "Why not buy a box, if you're interested in them? Might keep you quiet".
So, needing no further persuasion, I grabbed a High Elf starter paint set and headed for the till.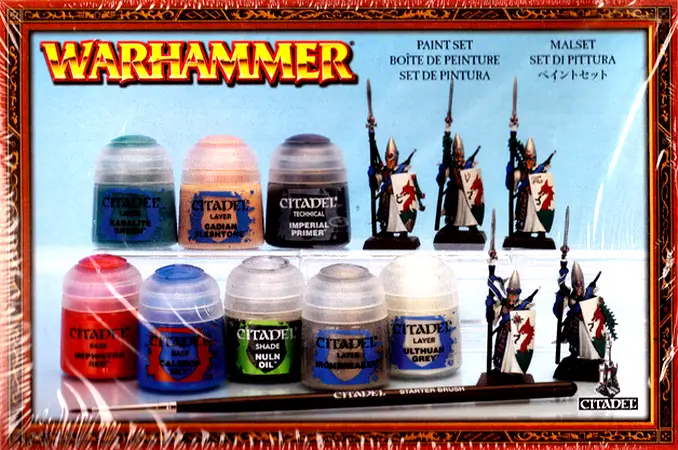 It was great, it had a small selection of paints, a wash, basic brush, and some cool looking Elven warrior minis. There was even some simple instructions on how to paint them, which crucially included using Nuln Oil.
I can still remember that moment I first used a wash and saw it settle into all the recesses. It was like magic. That was it, I was hooked!
What do you enjoy most about the hobby?
The most enjoyable thing for me is still the painting, with basing a close second.
How long have you been promoting your brand?
Right from the start I decided I would prefer to use social media just for posting my hobby painting, and so I adopted the alias "Brushstroke" as a way to keep things separate from my personal life.
What are your social media channels? (Other links/websites?)
Facebook – https://www.facebook.com/brushstroke.painter
Instagram – https://www.instagram.com/brushstroke77/
YouTube – https://www.youtube.com/BrushstrokePaintingGuides/
How did you refine your skills?
Unsurprisingly, I would say the internet. It's proved to be an invaluable source for painting guides and videos, as well as a method by which to connect with other hobbyists. I read and watched as many painting guides, as I could find, and then tried them for myself.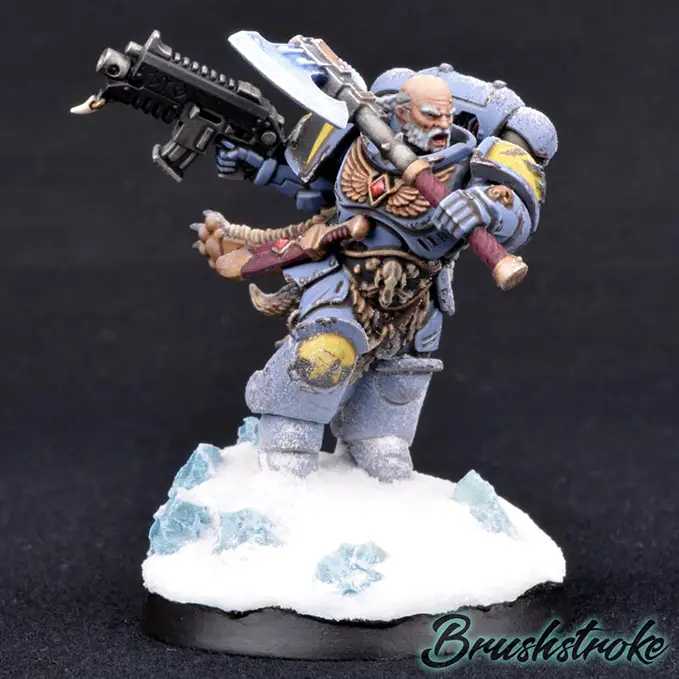 I found the GW painting videos were especially helpful when I first started, as they introduced me to the different basic techniques and processes.
What types of models most interest you?
All models interest me, often that's the biggest problem! I see an exciting looking model, which would be amazing to paint and start planning in my head how I'd paint it, with what colour scheme etc, despite already having a life-time's worth of minis to paint already.
What is your favorite tabletop game?
For tabletop wargaming, that would have to be Middle Earth SBG, I'm a massive Lord of the Rings fan and I love the miniatures from the Middle Earth range.
My all-time favourite miniature game though, has to be the classic board game HeroQuest!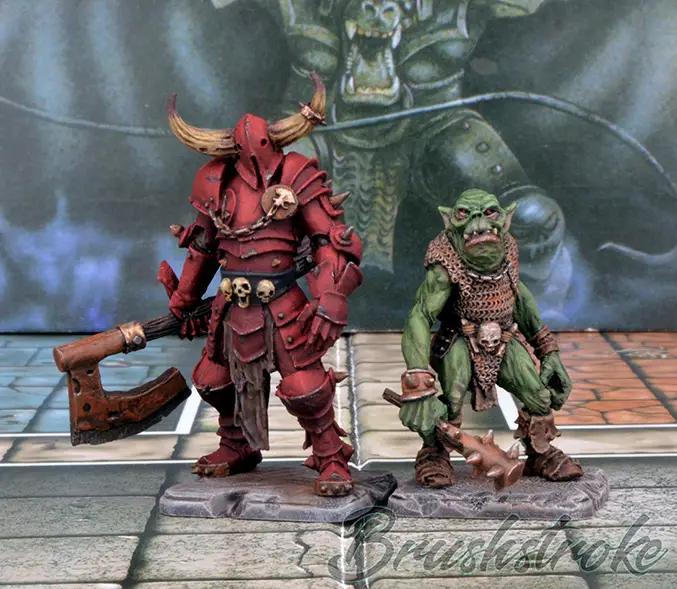 I remember playing it as a kid and wishing I had a beautifully painted set. So, shortly after I got into painting, I scoured eBay for an unpainted set and used it as my first real painting project. It is now firmly the favourite game for both myself and my daughter.
What advice would you give someone interested in starting the hobby?
Don't be afraid to try.
There is an almost endless source of knowledge on the internet, which is amazing, but also very daunting and intimidating when you first start, because it feels like everyone can paint at a level unattainable to beginners.
The thing to remember though, is all those painters started in just the same way and have only improved through practice and making mistakes. So, never worry about getting things wrong, as it's all part of the learning process and vital to understanding how to improve.

Never stop asking questions
When I first started I didn't have a clue what I was doing or how to make my minis look better.
But I quickly worked out that the best way to find out, was to just ask people. If I saw someone post something on social media that I wondered how they did it, I would ask them and then gave it a go myself. Of course, it didn't always go too well, but that was fine. It gave me ideas and things to work on and keep trying.

Have fun.
Lastly, just have fun. Painting, model building, war gaming or whatever, is a hobby and supposed to be fun.
Don't worry what other people think, if you're enjoying your hobby, then it's perfect What advice would you give someone struggling to find motivation to finish a project?
I think this is something everyone will struggle with at one time or other, I know I certainly I do.
Painting large projects, especially repetitive army painting, can start to feel more of a chore than a hobby.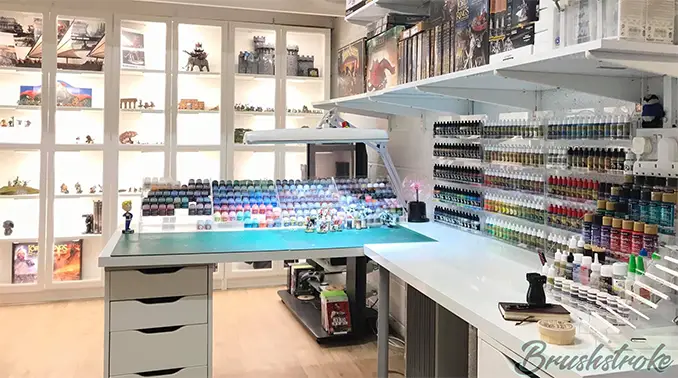 The way I try and combat that is to break bigger projects down into shorter sprints of painting, rather than one massive painting batch. For example, I might paint 4 or 5 basic troops as a batch and then move on to painting a hero/character (which tend to be more interesting and fun) as a reward. Then back to some standard troops and then maybe a vehicle/creature and so on. That way I get that sense of completion more often and I feel I'm making progress.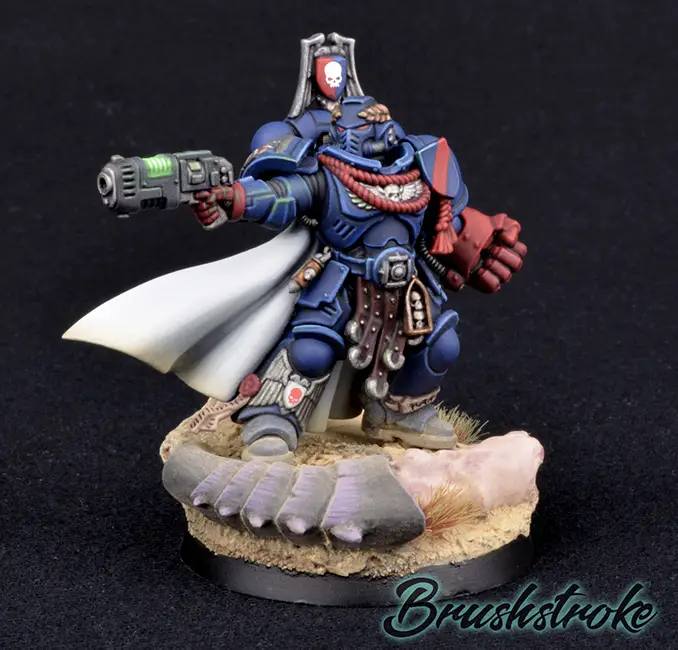 I also like to have a couple of projects to work on in parallel, usually very different from each other, sci-fi and fantasy, for example, but certainly very different colour schemes at least. That way it breaks up the repetitiveness of feeling like all you ever do is paint one colour.
What resources would you recommend for inspiration?
I think you can get inspiration from everywhere TV, films, nature but for incredible painting skills, I'm a big fan of PuttyandPaint.com
What is your greatest achievement in the hobby?
My greatest achievement would be having my work printed in an official Games Workshop rule book.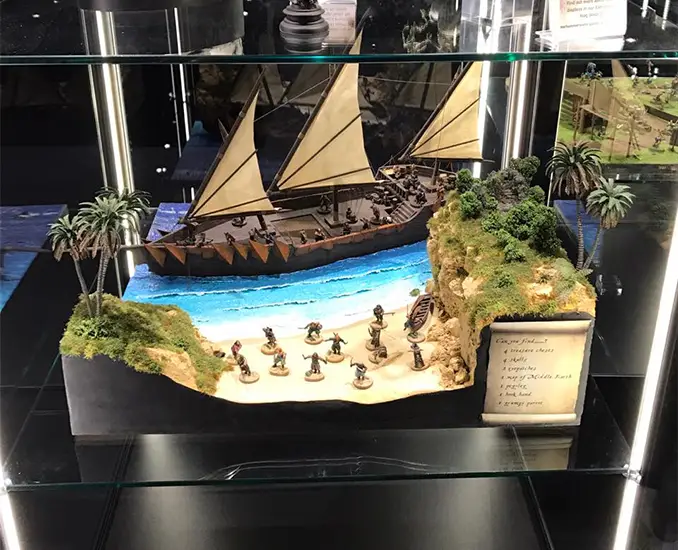 I was honoured to have been asked to display an Armies on Parade board I made in GW's Warhammer World exhibition hall. Whilst it was there I was asked if the Middle Earth team could borrow it for some photos.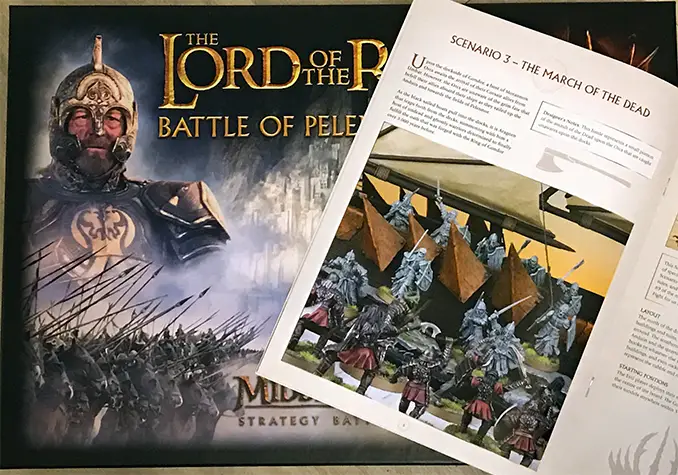 Many months later, when the new box set was released, I couldn't believe my ship made it in.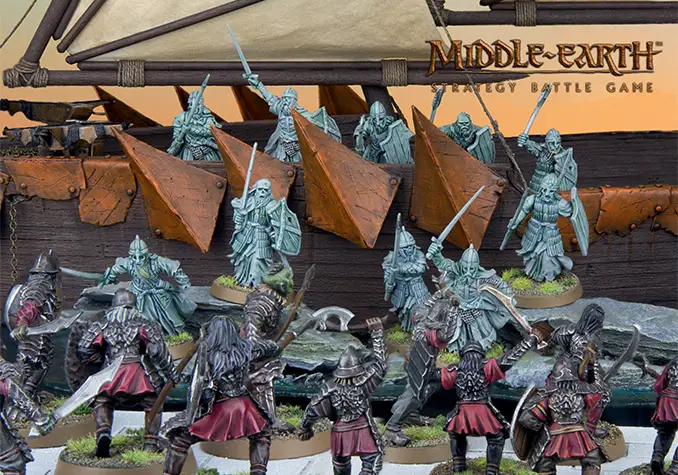 What is something you feel you need to improve on?
I feel I need to improve in all areas still, but at the moment, I'm trying to increase the level of contrast on my miniatures. Not just contrast between light and dark but also in finish like matte and gloss, smooth and textured, metallic and solid.
What tool would you say is your secret weapon?
I don't think I have a secret weapon really. I think the thing I would be truly lost without though, is my painting lamp. It's a really wide adjustable lamp with very bright daylight bulbs. I've tried painting (at events etc) without it and I really struggle.
What tools do you use?
I use a whole range of different brands of tools, especially for brushes. For washes and basing I'm really liking Daler Rowney System3 brushes at the moment. I find I'm using cheap makeup brushes more and more for drybrushing as they give a softer, less chalky finish. For painting, I really like Winsor & Newton Series 7 brushes.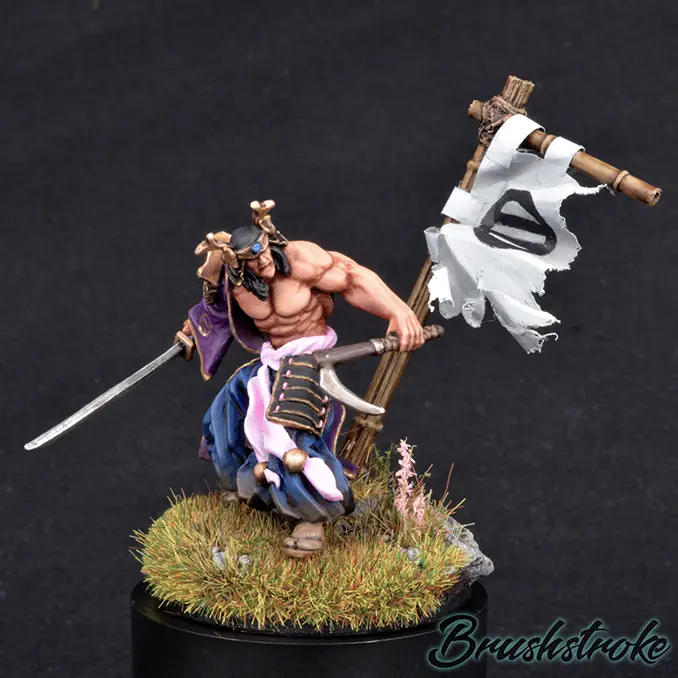 I have an airbrush, but I'm really not skilled with it yet. I use it just for priming really. I would like to learn to use it for painting more, but I always seem to find myself reverting to hand brushing.
What paints do you use/why?
I have a LOT of paints, because I enjoy trying different brands and discovering their different behaviours and characteristics. For example, like Scale75 paints as they produce a really flat, matt finish and being gel based they glaze so nicely.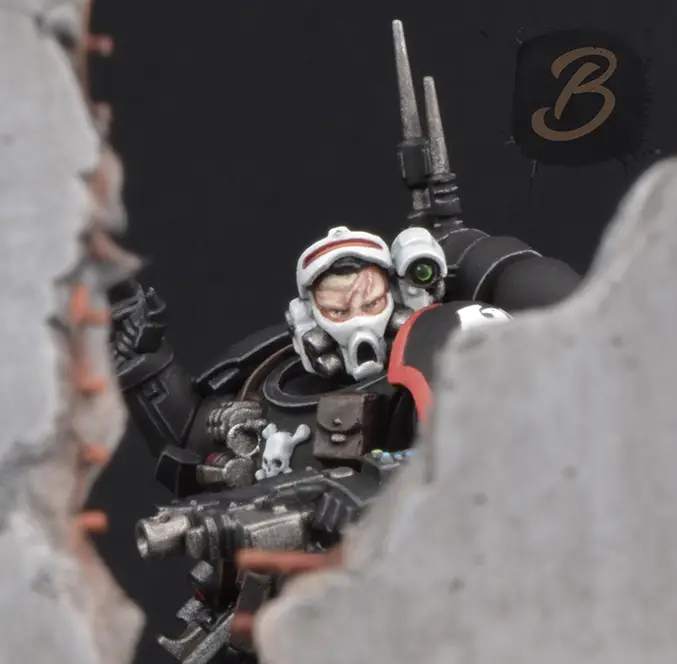 But then I also love Vallejo metal colours and the molten metals range from Darkstar.
If you had to pick one paint range, what would be the all-around best choice?
That would be so hard for me to have to choose just one range, as I have favourite paints from so many brands, but if I HAD to pick one, I would have to go with Scale75, as they have a great range of solid colour and metallics which all perform really well.
What do you consider when choosing your paints?
I try to pick based on what result I'm wanting to produce. Tone, matte-ness (is that a word?), temperature, transparency are all factors.
James Collard – Brushstroke – Ask the Artist Summary
James, I wanted to thank you for taking the time to answer our massive laundry list of questions. I absolutely love your work, and I hope to discuss the possibility of future collaborations!
Readers, go and show this fantastic man your love and support! He just finished a wonderful series on YouTube covering the Raven Guard paint scheme.
Click this link & buy your hobby stuff from Element Games for the UK & Europe to support FauxHammer.com – Use Code "FAUX2768" at the checkout for double reward points.


15% off Phrozen with code: "22PRFHDP15"

Our Affiliates / Hobby Stores
What did you think of this Article? please let us know in the comments.
If you like what we're doing here you could really help encourage more content with a share on any social media platform.
Click the share links at the bottom of this screen (or on the left for computers and tablets)
Want to keep updated with the site? You can subscribe in the sidebar for RSS or by email below
(Sidebar is below the article on Mobile Devices)