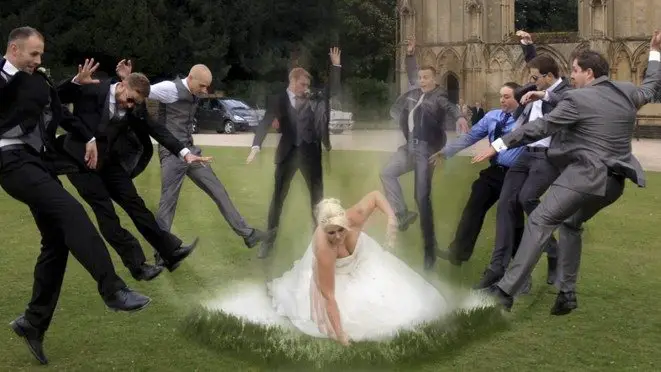 So, a year ago today, at about this time I was probably doing something in the run up to my wife's wedding. The wedding was in August and it's now only May but there was much to plan, so I was told.
Only kidding, my wife wasn't a crazy nightmare fiancé trying to get everything perfect, that was more my thing. She organised the hell out of it a good year prior, it was about this time I came in and messed it all up and added some creative flair.
Hand's down, best day of my life and it was mainly because of all of our family and friends making it such a great day.
But anyway, this is a Photoshop related post, so I'll finish the wedding chatter by saying that this was an idea I got 2 days before the wedding.
I'll be honest this is not some of my best editing work, in fact its pretty awful in comparison to some of the other pieces I've done. But it was a hell of a lot of fun to play about with.
Below shows some images which formed the inspiration behind this.
This took several tries at our wedding to get right, but as you may tell from the look on my beautiful wife's face, she was more than happy to delay the evening events in order to get this just right?
So here's the original, pre edit and the steps from A to B were rather simple, I did most of them on my honeymoon.
Editing Steps
Always, ALWAYS! Duplicate the original photo you want to edit, just drag it over the layer icon to duplicate it. then start playing with that duplicate. (always worth making the habit of keeping united versions of layers in your PSD's especially if you don't layer mask.)
Edit the photo, change your colour, saturation, brightness, vibrancy and levels etc. (I could have done a much better job here, but again, rushed)
Crop & Straighten, normally by now you should have visualized what the final image will look like, so use the crop tool to straighten and crop the image. Thankfully in Photoshop, this can be undone. The photo actually looked OK at this point but i wanted to see if I could add some extra little tweaks.
So I started to follow This guide on creating a powerful wave effect. If you look closely a the edited image you can slightly see it but I wanted to mute it back so it was a little more realistic.
I then created a downward motion blur, which is a lot more obvious behind my wife.
I then made several copies of her arms to create a motion effect similar to that of Johnny Cage's Shadow Kick from the original Mortal Kombat. (although the staggered effect this shows is not quite in-keeping with the smooth whoosh lines that show my wife having landed from a height, still, was fun to play).
Shadow Kick – Mortak Kombat 2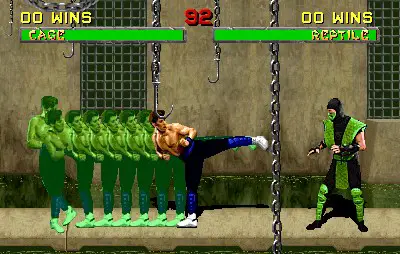 The next bit was annoying. I wanted some kind of impact mark, so I looked online at numerous explosions for ideas to create smoke effects or a cracked ground like you can see in the Iron-Man poster above. but nothing grabbed me. Finally, I settled on a meteor impact. So I straightened this up and set the size right. deleted the surrounding image then changed the colour mode to Black & White. I created a new layer, set the blending mode to multiply and painted the same green as the grass over the remaining area from the meteor layer.
A couple of things I could have done would have been to just spend some more time on the edges. especially where the meteor impact is over my foot, yet I'm actually in font of it. (And yeah, I'm the guy on the right, mental that she married "me" isn't it).
So that's all there was too it, definitely fun to play with and although far from perfect, it's proven to be one of my most popular ones. If you want to play around with this and see exactly what I have done, you can download the "messy" .psd from here. Or, why not have a go at this yourself with some friends as it's so easy to do? I'd love to see some of your versions of this same thing, post here and share your own.